Attemperator Piping Replacement
Project Overview
The project involved the demolition and removal of existing boiler attemperator piping and controls. The piping was replaced with 304 stainless steel piping and the controls were updated. Century A&E performed the field verification of existingpiping, layout and design of the new piping and instrumentation. Century A&E prepared piping and instrument diagrams (P&IDs), demolition drawings for piping and instrumentation, plan and elevation piping drawings, hanger details, spool drawings for shop fabrication of the piping and wiring diagrams.
Services Provided
Piping Design and Instrumentation & Controls
Centralized Control Room Renovation Project Overview
The project involved remodeling and additions to create a new control room to combine the operations functions of two generating units into one space. Creation of the new Central Control Room required the relocation of the plant's Instrumentation and Controls department lab and offices as well as new rooms for document control and training functions. The Central Control Room included Operator support areas such as emergency response equipment storage, library, kitchen, and toilet rooms. Adjacent to the Control Room is a new production supervisor's office. Concurrent to this work was the addition of new instrumentation and control valves to increase the efficiency of the operations throughout the plant. Century A&E provided complete design of architectural, mechanical, HVAC/plumbing, process instrumentation/valves, electrical power and lighting, and controls retrofit design for this project.
Services Provided
Architectural Design, Structural Engineering, HVAC/Plumbing Design, Electrical Engineering, Instrumentation & Controls Design, and Mechanical Process Engineering
High Pressure Boiler Feedwater Heater Replacement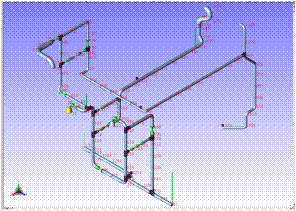 Project Overview
The project involved the demolition and removal of an existing feedwater heater and the placement and installation of a new feedwater heater. The replacement feedwater heater was larger and heavier than the existing feedwater heater. This required structural modifications to the support framing along with the operating room floor. Temporary floor reinforcement was required for staging the installation of the replacement feedwater heater. The existing piping had to be restrained once is it was disconnected from the existing feedwater due to cold spring being designed into the piping. Piping modifications were required because of the larger diameter feedwater heater. Also, in order to improve operation of the feedwater heater a new alternate drain line was designed. Pipe stress analysis was performed on the new piping and feedwater heater nozzles using CAESAR II software. Various instruments had to be replaced or relocated due to the age of the instruments and the larger feedwater heater being installed. The deliverables included both demolition and construction drawings for the structural steel modifications and details, piping layout and details, pipe stress analysis, instrument location plans, wiring diagrams and bills of material.

Services Provided
Piping Design, Structural Engineering, Electrical, Instrumentation & Controls
Centralized Control Room and Plant Automations
Project Overview
The Project involved the demolition of manual controls in two control rooms and the creation of a new, centralized control room integrated with a Distribution Control System (DCS). While Century A&E provided complete architectural solutions for this project, a majority of the effort was spent completing the following:
Field investigation of existing wiring and integration of over 2,400 digital and analog inputs and outputs into the DCS
Specifications and details for over 150 new instruments and 50 control valves
Facilitation of meetings with Operations team to best determine which new functions would be most effective to bring into the DCS
Utilization of HMI software to aid in the communications of Operations screen layout requirements to the DCS system supplier
Modifications to over 700 existing and new drawings of wiring diagrams and schematics
Services Provided
Electrical Engineering, Instrumentation & Controls Design, Mechanical Process Engineering, Architectural Design, Structural Engineering, HVAC/Plumbing Design